Attivities
The pool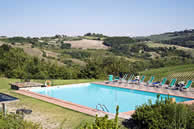 Le Mandrie offers its guests free use of a full size swimming pool, in a perfect position to make the most of the panoramic view of Tuscany and the Florentine hills of Chianti, topped by three medieval castles. The pool is surrounded by green lawns which reach into our olive groves, where you can take a peaceful walk undisturbed, except perhaps by some hares and pheasants!
---
Children's playground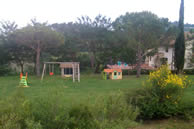 In the vicinity of the pool is a children's playground for our much younger guests.
---
Book a museum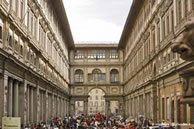 At Le Mandrie we can book your visit to the following museums: The Academy, The Uffizi, The Palatine Gallery and the Royal apartments of Palazzo Pitti, The Bargello Museum, The Medici Chapels. If you prefer to be sure you get a slot to see your favourite museum, you can book ahead: contact the official website of the museums in Florence, which is:
---
Guided tours in English and French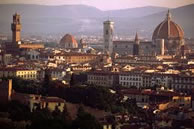 If you would like to book a guided tour, we can recommend an excellent tour guide Ms. Ghislaine Tiozzo. Visit her website
www.visiterflorence.com
or send an email to
info@visiter-florence.com
---
Wine tasting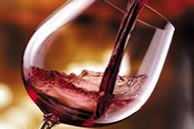 If you would like to have a wine-tasting experience of our wines accompanied by some appropriate nibbles, which serve to enhance the inherent qualities of the wine, just let us know and we can organise it for you.
It is also possible for us to arrange wine-tasting sessions at the following wine producing farms, which you can also contact directly, if you prefer:
Tenuta di Castiglioni, Montespertoli, property of the Marchesi de' Frescobaldi family, who have been producers of great Tuscan wines on their estates all over Tuscany for centuries:
contact : tel. +39 0571 671387
Azienda Agricola del Castello Sonnino, Montespertoli, property of the Sonnino family which has produced the excellent wines of the Montespertoli area for more than two hundred years.
---
Cheese Tasting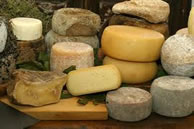 Enjoy tasting a selection of our cheeses made from milk of sheep bred in Tuscany, accompanied by a selection of our preserves and bread, made using the flour of ancient grains which we grow directly on our farmland. Accompany your cheese tasting with a glass of excellent quality, local red wine.
---
Trekking
There is no lack of choice at Le Mandrie if you enjoy country walks, just choose the path you prefer and walk through our olive groves and vineyards, lined with cypresses. You can walk for an hour or even a day, let your vitality be your guide! There are many officially marked footpaths in our hills and even along the river Pesa, such as the 25km footpath from Montelupo to San Donato, where you can walk to the sound of the flowing river, which acts as a stimulus to keep going.
---
Horse riding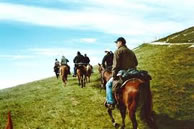 We suggest two possibilities:
There is an excellent riding stable, just 4 km away from Le Mandrie, which you could also contact directly, if you wish: Centro Ippico Bogani tel. +39 3386727012 or +39 3383202408.
If you are interested in going riding in the hills surrounding the town of Greve in Chianti, we can put you in contact with an organiser of this kind of activity.


---
Fishing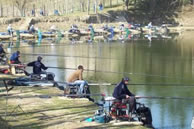 There is a lake on-site where you can do some fishing, with your personal fishing equipment. We recommend that you respect the rules of recreational fishing.
---
Tennis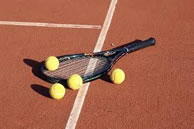 Just 500 m. from Le Mandrie are some tennis courts which you can book to play both in daylight and at night. The courts are illuminated and covered. Rackets and tennis balls are hired out for free. There is also a possibility of booking tennis lessons.
---
FIVE-A-SIDE FOOTBALL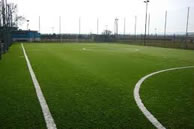 There are football pitches for five-a-side football just 300 m. approximately from Le Mandrie, which are open both in the day and in the evening.
---